My Top 5 Baby Food Recipes
Making your own baby food is actually pretty simple and you don't need to be a chef to do this.  I thought I'd share with you my Top 5 Baby Food Recipes in hopes that this will help you to provide healthy vitamin and nutrient dense foods for your baby that often the commercial shop bought baby foods don't have.
When your baby is just starting solids around 4-6monhts old, you want to use really simple single ingredient purees so your baby can firstly develop the taste for single flavours and also so you can identify any allergies or sensitivities to foods.
These are the easiest to make – I would puree and then I would freeze the food in ice-cube trays and once frozen transfer to my Sinchies wrap bags, all labelled with some masking tape and a permanent marker.
I personally started with vegetables like Avocado mashed up & put through a sieve to make it smooth.  Baked and then pureed sweet potato and pumpkin – Baking the sweet potato and pumpkin I find makes it a lot sweeter.  And things like steamed apples as well as masjed up bananas and mashed up ripe pears – but do be careful as some babies get constipated on bananas and others go the other way with pears. Poonamies here we come!
Moving on from single purees – at about 7 -8 months old – I  started mixing fruit and vegetables together –  adding some grains like quinoa & brown rice. At  9 months old I started adding – fish, poultry and meats. And only at 12 months did I introduce Greek yoghurt and cheese. This was for personal reasons.
So here are my all time Top 5 Baby Food Recipes  and my babies favourite ones too.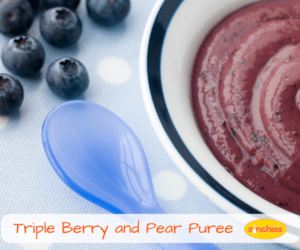 Samantha is the owner of Sinchies, the original, award-winning reusable food pouches voted #1 by Australian mums.