Who doesn't love a good playground? They are the perfect place to fit in some active outdoor fun with your little one while they interact with other kids and stretch their imagination. While we believe that you can create your own fun in any playground, there are a few playgrounds in Brisbane that take playing to the next level. Here are the best kids playgrounds in Brisbane.
The Best Kids Playgrounds in Brisbane That Your Kids Will Love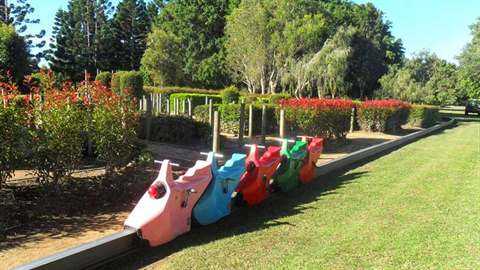 Image credit Moreton Bay Regional Council
Pine Rivers Park
One of the most iconic north side playgrounds in Brisbane is without a doubt in Pine Rivers Park. This park has so much for kids to explore. Not only do they have the usual fun fare of climbing structures, slides, interactive play and swings, they also offer unique play experiences you won't find anywhere else in Brisbane. Their star features are the flying fox and a pedal-powered monorail that circles an impressive children's maze.
Darlington Parklands
Looking for something fun to do with the kids on a hot day? Darlington Parklands is one of the best kids playgrounds in Brisbane that will keep the kids cool and entertained for hours. Located on the south side, Darlington Parklands is a playground, waterpark, and an ideal picnic spot all in one. With a heavy focus on the natural surrounds, your little one can literally play amongst the trees and explore the fun water structures that make this playground so unique.
Frew Park
Looking for a park that's close to the city? Check out Milton's Frew Park. Located on the old site of the Milton Tennis Centre, Frew Park boasts gorgeous walking tracks and state of the art tennis courts. The park's most popular attraction, however, is the futuristic playground. This playground is perfect for energetic kids who love their sports. It includes rock climbs, basketball nets, a giant slide, and of course a mini tennis court. The best part is the cafe overlooking the playground. Pick up a delicious coffee and treat yourself as you keep an eye on the kids.
Download our Scavenger Hunt for something extra to do with your little one at the park!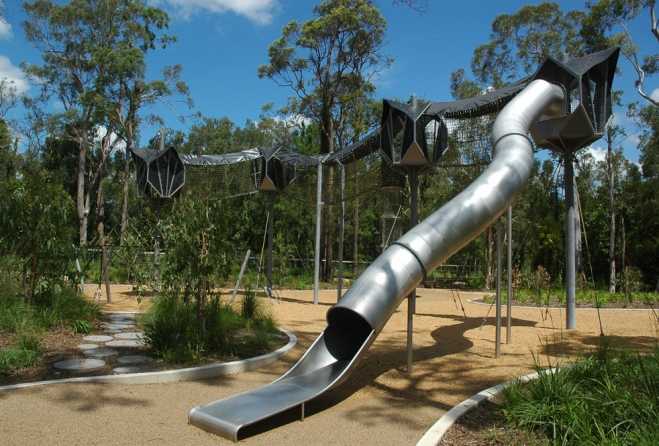 Image Credit Mustdo Brisbane
Calamvale District Park
For playtime up high, head to Calamvale District Park. This south side playground is not for the faint of heart, boasting impressive rope-bridge tunnels hanging high above the ground, leading to one of the biggest enclosed slides we've ever seen. There is also a 50-metre flying fox and a kiddies rope bridge playground with interactive play stations for the younger kids.
Kidspace
For kids who love a good game of hide and seek, Kidspace on the north side will make their day. Surrounded by parkland and perfect picnic spots, this is one of the best kids playgrounds in Brisbane that has something that every child will love. From a maze of bridges and towers to swings that cater for all ages and abilities and interactive, musical play stations, Kidspace will spark your kid's imagination and give them hours of fun. 
For more awesome articles about raising kids in Brisbane and on the Gold Coast, check out our Blog.
Where to From Here?
Coastal Babysitters is an Award-winning Babysitting Service throughout Brisbane, Gold Coast and Byron Bay.
'Children Love Us, Parents Trust Us'

Are you in need of some time without the kids?
Why not let us look after your little ones so you can enjoy yourself without worry! You can be assured the children are having just as much fun as you are!
Hand-selected and interview by me personally, all our sitters are either mums themselves or have worked in child care for at least 3 years.
We care for your children as if they were our own and make the whole experience easy and comfortable by:
Our online or over the phone booking system
You are emailed your babysitters profile and photo once assigned to your family.
Your babysitter will phone you prior to the job, to say hello
Your babysitter will bring activities for the kids
Your babysitter will be engaging and have lots of fun with the kids.
You will be sent photos so you can see your child is having fun.
Your babysitter will leave a little note behind so you know what happened 'while you were out'….
Have an awesome day and we look forward to meeting your family,
Orly x