Looking for an awesome kids playground on the Gold Coast to discover with your little one? We have put together the definitive list of all the best playgrounds you and your kids will love on the Gold coast. This list has something for every child, whether you're looking for imaginative play, exciting features, or accessible equipment. Here are five kids playgrounds on the Gold Coast that make for the perfect day out.
Kids Playgrounds on the Gold Coast You Have To Visit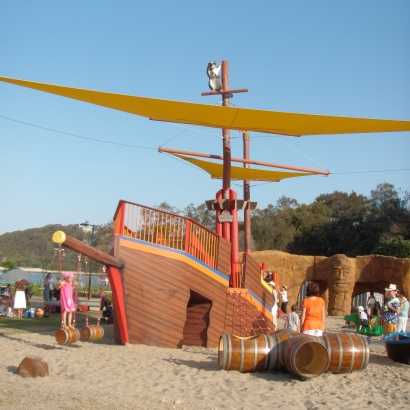 Image credit City of Gold Coast
Pirate Treasure Island Playground
For a day packed with swashbuckling play, head to Pirate Treasure Island Playground. Located at Palm Beach, this popular kids playground on the Gold Coast is the perfect spot for all wannabe pirates to act out their seaworthy adventures. The entire playground is pirate themed, with buried treasure, desert island caves, and circling crocodiles. There is also, of course, a pirate ship ready for your little one to step up as captain.
Faerie Park
If your kids love imaginative play, Faerie Park is an absolutely adorable picnic space that you need to check out. Less like your ordinary playground and more a whimsical imagination zone, Faerie Park is dotted with lush trees and magical features that make you feel like you're in a fairytale. On top of the wishing well, troll bridge, a goblin cave, and toadstool houses, you'll also find the usual playground fare of swings, slides, and play equipment.
For extra fun at the park, download our Scavenger Hunt!
Westfield Helensvale Playground
When you need to get some shopping done with the kids, Westfield Helensvale Playground will add a dose of fun to their day. While shopping centre playgrounds are usually a little drab, this one has put in the effort where others are lacking. Located close to the bathrooms and food court for a conveniently supervised play, your little one can explore the giant treehouse, rope canopy, log swing, spiral slide, and more.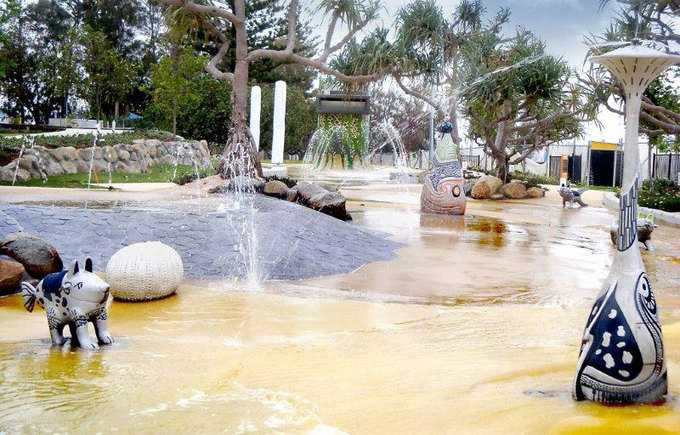 Image Credit City of Gold Coast
Broadwater Parklands
For a full day of fun, make your way to Broadwater Parklands. This kids playground on the Gold Coast packs in so many activities that will put a smile on your kid's face. Start off with a bounce on the shaded jumping pillow before you head to the playground which features all sorts of play equipment, from climbing equipment to swings, slides, and monkey bars. Move on to the pedal monorail and splash around in the shallow water park. In summer they even open a paid inflatable water park for all ages to enjoy.
Kurrawa Park All Abilities Playground
Lastly, we have an awesome playground that caters to all ages and all abilities, Kurrawa Park. This playground is specifically designed to be all-inclusive, incorporating all types of play for all children. Not only do they have accessible sand tables for wheelchair access and an epic sandcastle fort with ramp access, the park also highlights community artwork throughout.
Looking for more activities to do with the kids? Check out our Blog!
Where to From Here?

Coastal Babysitters is an Award-winning Babysitting Service throughout Brisbane, Gold Coast and Byron Bay.
'Children Love Us, Parents Trust Us'
Are you in need of some time without the kids?
Why not let us look after your little ones so you can enjoy yourself without worry! You can be assured the children are having just as much fun as you are!
Hand-selected and interviewed by me personally, all our sitters are either mums themselves or have worked in child care for at least 3 years.
We care for your children as if they were our own and make the whole experience easy and comfortable by:
Our online or over the phone booking system

You are emailed your babysitters profile and photo once assigned to your family.

Your babysitter will phone you prior to the job, to say hello

Your babysitter will bring activities for the kids

Your babysitter will be engaging and have lots of fun with the kids.

You will be sent photos so you can see your child is having fun.

Your babysitter will leave a little note behind so you know what happened 'while you were out'….
Have an awesome day and we look forward to meeting your family,
Orly x